Welcome to Blackwell Earthmoving
One of the UK's largest earthworks contractors also delivering a wide range of restoration and soil stabilisation services. 

Our mission is for Blackwell Earthmoving to be the specialist earthworks contractor of choice within UK major infrastructure.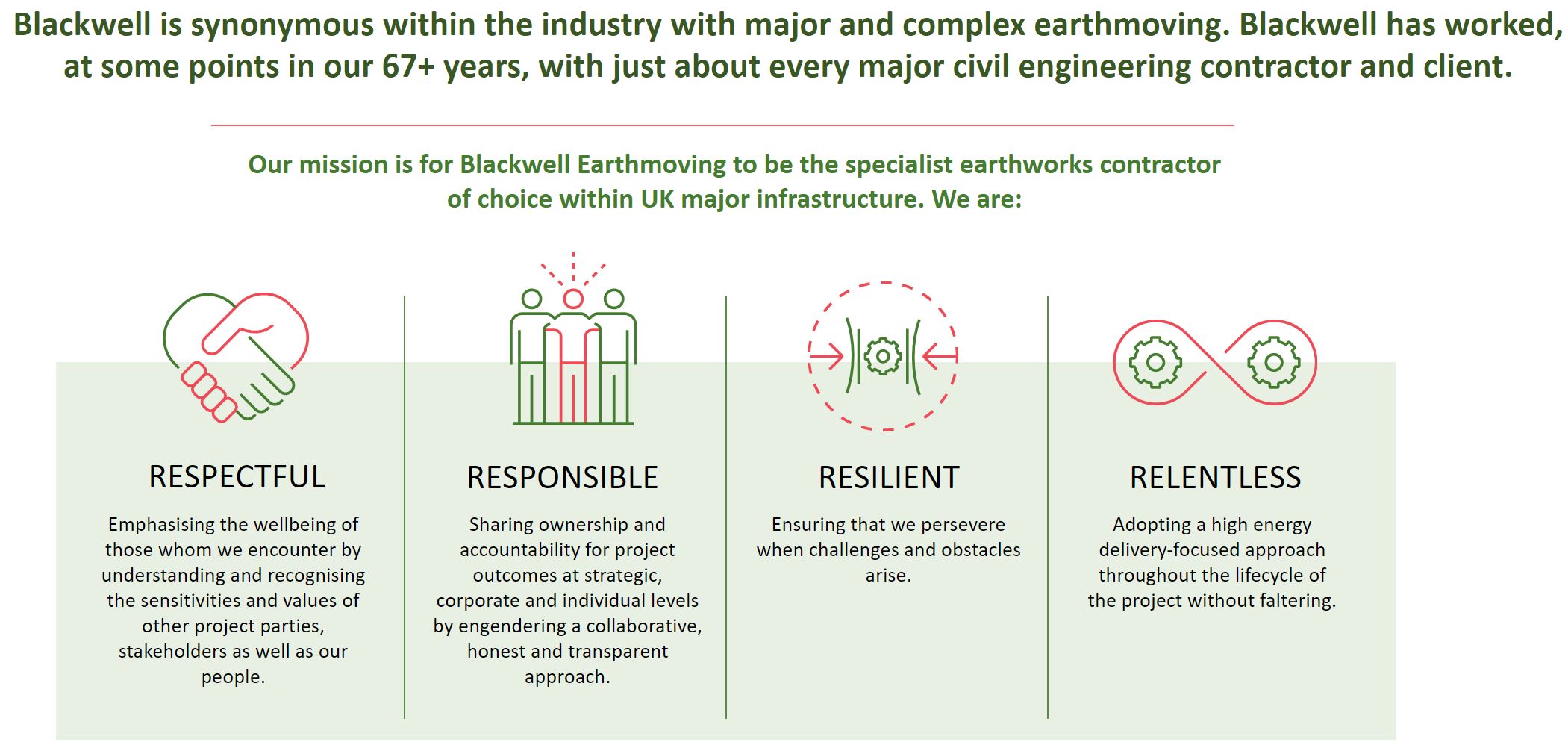 Code of Practice: Sustainable Earthworks

Blackwell have been at the forefront of championing the sustainability of earthworks for the last decade.  In 2011, their contribution, alongside the then Highways Agency and Arup, to a University of Cambridge study into carbon emissions in earthworks, saw the creation of a carbon calculator for earthworks and the publication of an extensive paper in the ICE Proceedings.  Most recently, Blackwell's Managing Director, Niall Fraser, has reunited with his European peers who worked together for nine years preparing the 2019 European Earthworks Standard EN16907, for the preparation of a European Code of Practice for Sustainable Earthworks, due for publication in 2023.  Niall is working alongside Alan Phear from Arup and their counterparts in Spain, Germany, France, Ireland, Norway, Sweden and other European nations.  The aim of the Code of Practice is to gather pan-European best-practice to enhance the sustainability of earthworks projects, building upon the fundamentally and inherently sustainable nature of earthworks amongst construction trades.
Blackwell Earthmoving provide the following services:
Address:  Suite 2 Park House | Earls Colne Business Park | Earls Colne | Essex | CO6 2NS
Contact Telephone Number: 01787 223 131
Email Contacts
preconstruction@blackwellearth.co.uk 
recruitment@blackwellearth.co.uk