Environmental
Social and Governance
ESG refers to the three central factors in measuring the sustainability and societal impact of a company or business.
Environmental
Monitors and reports how the Company controls its impact on the environment.
Social
Examines how the Company manages its relationship with employees, suppliers and communities.
Governance
Controls and monitors how the Company deals with its leadership, internal controls and shareholders, including in the areas of E and S.
Delivering services to the industrial and property sectors, Hargreaves has created a Cross-Business Working Group (ESG Group) to assess procedures, review methods and identify goals to ensure the business is informed, educated and can act on its ongoing ESG responsibilities. The ESG Group will work towards fulfilling the requirements of the Task Force on Climate-related Financial Disclosures (TCFD). The ESG Group's findings will form an integral part of future financial reports and investor presentations and will be regularly reviewed at Board level.
Governance
Strategy
Risk Management
Metrics and Targets
In light of forthcoming TCFD requirements, the Board is developing its policy towards the oversight of climate related risks and opportunities.
As part of the Board's approach to developing its strategy, climate-related risks and opportunities will be identified over the short, medium and long term and the Group's plans to address them will be developed.

We have established a Cross-Business Working Group to evaluate processes and management reporting methodology in respect of climate-related risks and opportunities.

This will ensure that the processes are embedded in each Business Unit's operations.

The Group currently measures and reports on the Energy Savings Opportunity Scheme (ESOS), Scottish Pollutant Release Inventory (SPRI) and Streamlined Energy and Carbon Reporting (SECR).As a direct result of the cessation of mining in July 2020, the Group can report:

a 37% reduction in methane emissions and
a 35% reduction in CO2 emissions compared with 2019 at House of Water.

The ESG Group is developing a strategy for TCFD going forward and planning to report and develop metrics as it progresses.
Safety, Health and Environment (SHE)
The Board's vision is to maintain an environment where all its employees, contractors and third parties experience zero harm as a result of its activities. To achieve this, the Group takes a proactive approach and is committed to achieving the highest standards of safety and health management and the minimisation of adverse environmental impacts.
The Board is pleased to note that the Group has an excellent safety record. The Board ensures that the health and safety of employees, customers and the public are at the forefront of all Group activities.
All business areas have formulated and implemented Safety, Health and Environmental (SHE) management arrangements consisting of policies, procedures and objectives to meet both legislative and best practice requirements. SHE performance and delivery are ingrained in operations and day-to-day activities and is always the first item on the agenda of every Board meeting.
Hargreaves, over time, and through experience, has developed some fundamental underlying principles which support and drive our safety culture. These principles are defined as the "Golden Rules".
Zero tolerance to drugs and alcohol

Risk assess everything you do

Work safely and challenge unsafe acts

Unsafe conditions – See them, Sort them and Report them
All policies, procedures and objectives meet both legislative and best practice requirements.
The Group has a "Step Back - Speak Up" safety culture which involves all staff and supports everything we do. It encourages individuals to take time to ensure that they and others can always work safely and raise safety concerns with the appropriate people. A weekly safety message is issued to staff covering various topics, such as hazard identification and slip and trip awareness, whilst also encouraging the reporting of unsafe acts.
The Group's Environmental Policy Statement commits us to ensuring that protection and enhancement of the environment is embedded in our Company values and encourages our suppliers and supports our customers in adopting a similar approach. Additionally, our procurement processes require us to evaluate our suppliers' environmental approach as part of our supplier approval process.
Our South African business was recently awarded the regional Top Companies Award for Leading HSE Company 2021 from NOSA VAAL for achieving excellence within the manufacturing sector. In addition, they were awarded regional winner of the NOSA Five Star System for Sector D4, relating to manufacturing and recycling.
During the recent Covid-19 pandemic, risk assessments were completed and shared appropriately. Stringent cleaning, handwashing and hygiene procedures were implemented, in line with government guidelines. Additionally, all reasonable steps have been taken to maintain a two metre distance between workspaces along with adequate ventilation to support those unable to work from home and to enable a safe return to the workplace when government guidelines allow.
Environmental
Social
Governance

Health and Safety
EMS Certification ISO14001:2015 and ISO45001:2018
ESOS Energy Savings Opportunity Scheme
SPRI Scottish Pollutant Release Inventory
SECR Streamlined Energy and Carbon Reporting

CSR Fund to support local groups and charities
Donations to community activities which employees and their families are involved with
The Group is a Gold Corporate Partner with Durham Cathedral
Employee Welfare Fund

Whistleblowing policy
Code of Ethics statement
Modern Slavery statement
Anti-Corruption & Bribery policy
Fraud Risk Management policy Social Media policy
Sustainable Supply Chain policy
GDPR Information Governance policy
ISO9001:2015 accreditation
Environmental Engagement
The Group recognises the potential impact of its activities on the environment. The Group is committed to mitigating its impact on the environment through the application of robust Environmental Management Systems to review, manage, control and improve its environmental performance on an ongoing basis. The Group is committed to demonstrating its environmental performance improvement in accordance with all relevant legislation through robust measurement systems and appropriate goal setting, tracking and reporting. It is the Group's intention to achieve its business aims while meeting rising environmental standards.
The Group seeks to:
Comply with all relevant environmental legislation and agreements

Use best practice to control its impact on the environment

Drive improvements in energy efficiency that will deliver a reduction in energy consumption and emissions

Prevent pollution to land, air and water throughout its operations

Set, and regularly review, objectives and targets to reduce its environmental impacts through continuous improvement

Integrate a robust Environmental Management System based on a recognised international standard into its Business Units and activities

Work with suppliers and customers to reduce the environmental impact of products and transport services and ensure that procurement policies consider the potential impact on the environment

Manage transport in an efficient manner to reduce the impact on the environment

Utilise by-products of operations wherever possible to recover value and reduce environmental impacts

Encourage waste reduction, recycling and the re-use of products wherever possible through the implementation of waste hierarchy strategies

Communicate the Group's environmental strategy to all employees through training, information and supervisions and make it available to stakeholders and third parties
We provide services to the Scottish Mines Restoration Trust (SMRT) in relation to the restoration of former opencast coal mining sites that were previously owned and mined by third parties that went into liquidation. SMRT is an independent non-profit making organisation which restores old opencast sites, bringing them back into community use. The Group has worked closely with SMRT since 2014 in the provision of site management and other services as part of the restoration of seven former opencast coal mining sites for the benefit of local communities and other community interest groups. Where applicable, we measure gas oil consumption and waste production against specific project criteria; the former having the greatest carbon impact.
One of the key activities of Hargreaves Land is the redevelopment of brown field sites to bring them back into productive use for both residential and employment purposes. At the present time over 1200 acres of brown field land is in the process of being redeveloped by the Company. In addition to enabling the development of new homes and creating employment opportunities, an important aspect of these brownfield site developments is the creation of new ecological habitats that enhance and expand biodiversity and the redevelopment of such brown field sites helping to reduce the development pressure on greenfield land and minimise adverse impacts on the environment.
From its ESOS report, the Group has identified three areas of potential energy saving opportunities.
Opportunity One – continue to build on the work the Logistics business is undertaking in terms of fuel energy management systems and energy efficiency programmes through driver awareness training. All drivers undertake training to enable them to drive efficiently, including reducing coasting, engine idling and harsh braking, and awareness of Green Band optimisation. These key factors are monitored, along with driver behaviour, by telematics and ultimately use less fuel, consequently reducing the cost and emissions of each truck in the fleet;
Opportunity Two – identify where benefits can be gained by monitoring, analysing and acting on the data obtained directly from our yellow plant assets via the manufacturer's on-board telemetry systems, attempting to reduce idling time; and
Opportunity Three – determine if there are any economic, operational and environmental benefits from using Hydrogenated Vegetable Oil (HVO) to power an HGV in comparison to a standard diesel-powered HGV. Notwithstanding the 15% increased cost of using the HVO, initial trial findings indicate a 90% reduction in CO2 emissions per truck, compared to those powered by diesel, over similar mileage and MPG. A 10% reduction in AdBlue usage was also identified. For each area of significant energy consumption, an energy audit showed compliance with the ESOS Scheme. Within the Logistics business, where our fleet may carry dangerous goods, this is monitored by Total Compliance in accordance with ADR, CDG and DGSA regulations.
Findings are then analysed, and any recommendations implemented.
Scope 1 and 2
Global GHG
Emissions
Tonnes of CO2e
2020
Tonnes of CO2e
2021
Reduction %
Combustion of fuels in operations and services provided
46,063
19,236
58.2%
Electricity, steam, heat and cooling for own use
676
546
19.2%
Total Footprint
46,739
19,782
57.7%
Emissions reported above per employee
26.8
15.7
41.4%
Scope 3
Business travel (air, rail and vehicles)
2,207
2,163
2.0%
In compliance with Streamlined Energy and Carbon Reporting (SECR) regulations, the Group publishes its annual global emissions using "tonnes of CO2 equivalent" for all fully consolidated subsidiaries on the same basis used for annual accounts preparation. The reporting period for Green House Gas (GHG) emissions is 1 June 2020 to 31 May 2021. The table below highlights the reduction in GHG emissions for this reporting period compared to the previous year.
Many of our offices are fitted with energy saving auto-light switches which are triggered by movement. This lighting automatically switches off in low traffic areas and during non-office hours. Additionally, Group offices recycle paper, envelopes and card which is disposed of responsibly by a third party.
Due to the diverse nature of the Group, different Business Units hold different environmental accreditations. Both our business in Hong Kong and our Specialist Earthworks business are accredited to ISO45001:2018 and our UK Industrial Services business and Hargreaves Environmental, Logistics and Minerals (HELM) business both hold ISO14001:2015 and ISO45001:2018, in addition to ISO9001:2015.
Hargreaves Environmental Services is currently investigating a business opportunity for carbon sequestration consultancy with a specific focus on its own landbank options within Scotland. A pilot programme for carbon capture, through tree planting at Chalmerston, with the potential sequester of 75,000 tonnes of carbon, is being investigated. The business is currently working with its partner, Birken Tree, to drive this initiative forward. Additionally, following restoration work at the ex-surface mining site of Powharnal in Scotland, 200,000 trees have been planted on the approximate 418 hectare site.
Our Environmental Services business has already remediated over 1,800 acres of ex-mining land with the potential for a further large landbank within the Group, which could allow us to continue this sustainable work for at least the next 5 years. The business believes that following this additional land recovery, it could further enhance the sites by tree planting, which would create carbon capture opportunities.
Following the pilot programme at Chalmerston, the plan would be to investigate other disused mining sites to understand if they too could be remediated, restored and ultimately trees planted in order to enhance the Group's carbon capture capability. Hargreaves Environmental Services is developing their expertise in the field of carbon sequestering and trading in order to not only assist the Group but also consult and partner with other 3rd party companies on how they too can build volumes of forestry carbon capture sites.
Social Engagement
Engage our People
At Hargreaves, people are our most important asset, and their safety and wellbeing is our number one priority. Fostering openness and respect are our key objectives. We value everyone and strive to work as a cohesive team. We invest significantly in our people and their working environment by creating and maintaining a safe and healthy working environment and ensuring their ongoing professional and personal development.
On commencement of employment, all employees undergo baseline health screening within three months of starting with us. They are then, depending on their role, added to a scheduled health surveillance programme.
To identify how the business can improve, we utilise engagement surveys, employee communication meetings, monthly update calls, newsletters, and e-shots. We feed back results through these channels and our "You Said - We Did" boards, to hold us accountable for identified actions.
The Group provides a confidential whistleblowing hotline, which enables all employees to report their work-related concerns to Safecall, an external and impartial organisation. These concerns are then passed onto the Group's Whistleblowing Officer with complete anonymity, who will then complete a thorough investigation and advise any relevant actions to be taken. These matters are reported to the Group's Audit & Risk Committee.
We also provide an Employee Assistance Programme (EAP) - "Better Together". This is a confidential service that can be accessed for advice and support on personal and financial matters not only by our employees but also members of their household.
To help support our employees and their families, the Group has a Welfare Fund that can be used to give financial support to individuals in the event of unexpected hardship.
The Company is committed to providing a range of development opportunities to enable its people to maximise their potential for the benefit of their own career aspirations and the needs of the business. Additional education is one of those development opportunities and has the added function of enabling people to achieve professional qualifications. The Company believes that such opportunities should be available to all employees who meet the criteria and will ensure the criteria are consistently and fairly applied and cover employees at all levels and grades, including full-time, part-time, permanent and fixed-term employees, managers, directors, trainees, and homeworkers.
The Group works in partnership with local colleges to provide apprenticeship schemes in various areas of the business from HGV fitters to data and technology roles. Additionally, in conjunction with local training providers, we provide commercial training schemes for trainee HGV drivers.
During the recent Covid-19 pandemic, whilst our employees adapted exceptionally well to the various challenges and restrictions, our focus was on flexibility, focusing on supporting our employees with all aspects of their lives from working at home, to childcare, to being available whenever they need a chat to discuss their mental health and wellbeing.
The Group is working with a mental health specialist to train identified individuals as Mental Health First Aiders. These First Aiders will be trained to spot the early symptoms of a variety of conditions, such as stress and depression, and to signpost individuals to their GP or an appropriate organisation.
Due to the diverse nature of the Group, the Company's e-newsletter, "Solutions", is issued on a bi-annual basis with the aim of informing employees about what is happening within the different areas of the Group. Employee feedback is welcomed, along with suggestions for future articles.
Support Local Communities
The Group believes in teamwork, and we make every effort to involve ourselves with local communities around our sites, for example, by sponsoring local sports teams, donating equipment for local support groups, and contributing our time to assist those in need, all the while benefitting from the satisfaction our colleagues gain from working together and helping others. For the financial year beginning 1 June 2021, the Group has designated a special CSR fund which will be used to support charities, as well as local groups and initiatives that employees are actively involved with.
The Group is proud to be a Gold Corporate Partner of Durham Cathedral, contributing to their work in supporting the local communities of the World Heritage site. In return for our support, the Cathedral provides benefits for employees and their families.
On an annual basis, we support the national Jeans for Genes Day and Breast Cancer Now campaign. Additionally, during the Covid-19 pandemic, the business replaced our annual Secret Santa event, opting instead to provide essential supplies to a local food bank.
In relation to the Company's former mining activities at Field House, which commenced in June 2018 and ended in July 2020, the Company contributed 20 pence per tonne of coal mined and transported from the Field House site to a Community Fund for the provision of environmental improvements and other benefits to local communities. A total of £93,000 was contributed to the Community Fund for distribution to local community projects.
More recently, Industrial Services supported the local community of Rotherham by providing materials, free of charge, to help re-site a WW1 memorial. The fitting tribute is once again on display for the community.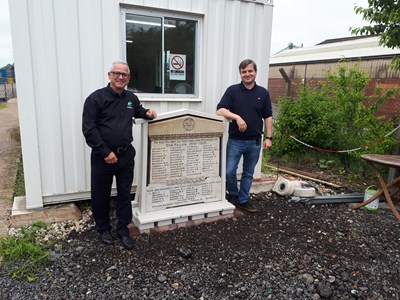 During November 2020, our South African business collaborated with Cape Gate and the Itireleng Task Team to improve the residential area of Boipatong and assist with repairing local roads, and improving the area next to Lebohang Secondary School, where a park has been created for use by the local community.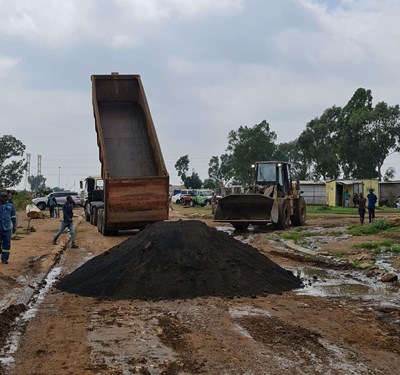 Governance
As part of the development of our governance structure to manage environmental and social risks, and opportunities, we have established an ESG Cross-Business Working Group to review the Group's strategy on environmental and social matters. The ESG Group is a cross-functional working group led by a Business Unit MD and works alongside the Business Units to collect information for our climate related disclosures and to assess the opportunities which climate change might afford the Group. The ESG Group also aims to ensure that we have a consistent group-wide approach to assessing environmental and social issues including climate related risks and mitigation. Furthermore, the ESG Group also considers future strategy on managing climate related risks and disclosures particularly in light of the forthcoming implementation of the recommendations of the Taskforce on Climate-related Financial Disclosures (TCFD). When those requirements are determined, the ESG Group will develop appropriate targets and metrics and evolve procedures to deliver them.
The ESG Group reports to the Audit & Risk Committee. The Board has implemented policies in respect of governance matters listed earlier in this statement, which outline the Group's approach and governance arrangements in respect of particular environmental and social matters. The Board will continue to develop its governance arrangements in respect of environmental and social issues in the forthcoming year, including changes required as a result of the requirements of TCFD.
The Group's other Corporate Governance procedures are set out on pages 29 to 32 in our 2020/21 Annual Report.