Environmental
Social and Governance
Hargreaves recognises the reporting requirements across the four core elements of the Taskforce on Climate-related Financial Disclosures ('TCFD') in relation to governance, strategy, risk management, and metrics and targets.
The Group is exploring how we can align with as many of the 17 United Nations Sustainable Development Goals ('UNSDGs') as possible. We currently identify with 9 of the UNSDGs:
| Governance | Strategy | Risk Management | Metrics and Targets |
| --- | --- | --- | --- |
| An organisation's governance around climate-related risks and opportunities. | The actual and potential impacts of climate-related risks and opportunities on an organisation's business, strategy, and financial planning. | The processes used by an organisation to identify, assess, and manage climate-related risks. | The metrics and targets used to assess and manage relevant climate-related risks and opportunities. |
Goal 3 - Good Health and Wellbeing;
Goal 4 – Quality Education;
Goal 5 - Gender Equality;
Goal 7 – Affordable and Clean Energy;
Goal 8 – Decent Work and Economic Growth;
Goal 9 – Industry, Innovation and Infrastructure;
Goal 10 – Reduced Inequalities;
Goal 11 – Sustainable Cities and Communities; and
Goal 13 – Climate Action
The Group is aware of the potential impact of its activities on the environment and remains committed to reporting its Environmental, Social and Governance ('ESG') performance in accordance with relevant legislation.  Established in 2021, our ESG Working Group ('ESG Group'), chaired by a business unit Managing Director, meets approximately every six weeks to discuss risks and opportunities which climate change presents and to monitor progress against a range of objectives and targets.  The ESG Group includes representatives from all areas of the business.  Each business unit established its own Carbon Footprint Reduction Initiatives and Climate Change Risk Assessments to develop the delivery of group-wide targets and reviews these documents quarterly.  Hargreaves places emphasis on the Group's ESG agenda being driven from each business unit, all of which embed climate change risks into their risk register. This bottom up approach ensures that consideration of environmental issues is incorporated into each business unit's approach including when tendering for new business opportunities.  The ESG Group reports quarterly to the Audit & Risk Committee, which ensures Board level engagement and facilitates continued awareness of the Group's ESG activities at the highest level.
Along with various in-house online training, including Anti-Corruption & Bribery and Information Security, all employees are required to complete online ESG Awareness training.  This training highlights the areas Hargreaves is focussing on to reduce fuel and water usage, waste, and increase levels of recycling. Additionally, the course advises how employees can make small changes in their homes, and the workplace, which can make a meaningful contribution to improving the environment. A monthly ESG themed topic is also added to the Group's internal SharePoint system to highlight various initiatives and raise awareness.

Following an independent assessment by Integrum ESG in January 2023, the Group was awarded an ESG A rating. This rating was calculated based on an analysis of procedures in areas of governance, sustainability and impact. An A rating indicates a very good overall approach to ensuring a company acts in line with expected standards for ESG matters.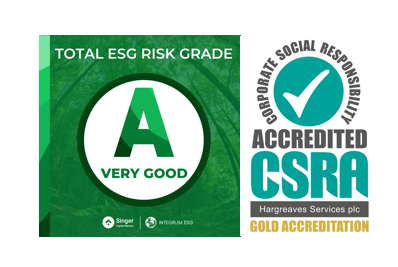 Hargreaves is also proud to have been awarded Gold CSR Accreditation. The accreditation is an effective way to benchmark what the Group does with regard to social responsibility. The process involves collation, measurement and reporting on the full range of socially responsible activities. Accreditation also provides a roadmap for planning future activity. The application process records activity against the four pillars of Social Responsibility - environment, workplace, community and philanthropy. Each pillar of Social Responsibility is designed for a company to report their impact on areas such as energy performance, recycling, staff engagement, health and well-being, community engagement and supporting local and national charities.  The accreditation is for three years and a tree is planted, in our name, as part of the Green Earth Appeal.
Environmental
The ESG Group has implemented robust measuring systems and appropriate goal setting, tracking and reporting in line with relevant legislation.  Each Business Unit undertakes an annual climate change risk assessment of the impact and potential opportunities of climate change and embeds these results into their risk registers.  These assessments focus on possible impacts within the next five years which is Hargreaves' usual planning cycle. Following these assessments, the relevant Group policies are reviewed and amended, where appropriate.  Business Units are also required to review, and update accordingly, the carbon reduction projects relevant to their business areas.
Climate Related Risks and Opportunities
The climate change risk assessments carried out by the business units did not identify any risks which might materially impact any of the Group's businesses.
The risk assessments, which considered the possible impacts on each business within the next five years specifically, covered the following areas:
Summer daily maximum temperature around 7°C higher compared to average summer temperatures now;
Winter daily maximum temperature around 4°C more than the current average, with the potential for more extreme temperatures, both warmer and colder than present;
Rainfall events up to 20% more intense than current extremes;
Average winter rainfall increasing by 41% on today's averages;
Sea level up to 0.6m higher compared to today's level;
Drier summers with up to 45% less rain than now;
The flow in the watercourses peaking at up to 40% more than now and 80% less than now at its lowest;
Increase in wind speeds by up to 60mph.
Separately, a range of actions have been implemented by the business units which aim to reduce their carbon emissions and mitigate cost increases which may arise more generally in the macro-economic environment as a result of climate change. These near term actions include measures to reduce energy and fuel consumption and these measures are set out below. Some of these measures have been included in the targets set for the financial year ended 31 May 2023 including reducing plant idling time, improving kilometres travelled per litre of fuel and reducing the megawatts consumed per office based employee.  Performance against these targets is set out below.
Other risks which apply more generally relate to the reduction and ultimate phasing out by legislation of diesel as the major power source for plant and vehicles. The Board does not consider that any risks arising from these matters are likely to arise within the next five years.
There are two specific technology transition risks related to climate change which have been identified. First, the Group has been working with a major original equipment manufacturer of plant for several years on the possible introduction of electrically powered plant. The timescales for this are governed by the manufacturer and the Board is unable to assess when such plant might become available. Secondly, all of Hargreaves' HGV fleet can be converted to operate on Hydrogenated Vegetable Oil ('HVO') at minimal cost with substantial emissions reductions arising. This alternative fuel is not yet commonly available nationwide and does have some additional cost but again the timing of major implementation of this will be driven by infrastructure roll out by fuel providers and the Board is unable to assess that timescale. Although the timescales for these technology transition risks are uncertain, the Board believes that the actions the Group has taken in preparation for these changes will enable it to adapt quickly and in a controlled manner at the appropriate time.
Additionally, the ESG Group has worked to identify business opportunities which may arise from climate change and the focus on carbon emission reduction. For Hargreaves, these arise mainly through the activities to regenerate otherwise unproductive former mining land in Scotland. This land requires waste sewage sludge to be spread over it so that it can then become capable of sustaining plant life.  The Group is working towards achieving Scottish Government grant funding for woodland creation projects intended to capture over 200,000 tonnes of CO2 on approximately 700 hectares of regenerated land which would feature approximately 1,700 trees being planted over the next five years.
Hargreaves Sustainability Initiatives
Procurement staff are required to complete a mandatory introductory module from the Supply Chain Sustainability School, with a view to this being enhanced and expanded in order to increase levels of awareness and collective buy-in from all staff members and we aim to achieve Silver status for all business units during the year ending 31 May 2024.
Where appropriate, smart meters and solar panels are being installed at all business locations.  From FY24, the Group's power supply will be provided using 25% nuclear and 75% renewable energy, i.e. 100% non-carbon.  In addition, electric vehicle charging points have been installed at our two main office based facilities, other major operational sites and are now standard installations in all of Hargreaves Land's newly constructed industrial buildings.
The Group's earthmoving activities utilise the largest amount of plant and is investigating alternatively powered machines for future projects, working with one of the world's largest plant manufacturers.
At Blindwells, Hargreaves Land's flagship residential site in East Lothian, 25,000 trees have been planted.  The trees will store the equivalent of 54 tonnes of carbon and produce 144 tonnes of oxygen in their first year; as well as increasing the overall levels of biodiversity net gain from the original 'base' position set by an independent ecologist.  The levels of biodiversity net gain are monitored throughout the life of the site.
In FY24, Hargreaves Land is planning to plant sufficient trees on 235 acres of land that will remove 427 tonnes of carbon in their first year.  Elsewhere in Land, over 700MW of renewable energy projects now have planning permission and grid connections, currently equivalent to 5% of Scotland's renewable electricity generating capacity1.  Hargreaves Land also has a further 550-1,050MW of battery storage schemes which have received planning permission and grid connections. Further opportunities for renewable energy assets on Hargreaves' land are being pursued.
Hargreaves Land continues to appraise its current Standard Developer Shell Specification documents to incorporate further carbon-reduction measures and sustainable technologies in future unit construction (including BREEAM certification) – albeit tailored to individual market circumstances on each project.  In addition, Hargreaves Land is exploring across its entire portfolio the continued integration of renewables into its 'master-developer' projects – including potential for wider district-heating, battery storage and Combined Heat and Power processes where appropriate.
A BREEAM rating of 'Very Good' and a minimum EPC Rating of 'A' is typically targeted in any new units constructed by Hargreaves Land, unless there is a specific user requirement and this is not contrary to local planning policy.  In Flood Zone areas, appropriate measures are undertaken to mitigate risks of flooding, alongside liaison with the appropriate statutory body such as the Environment Agency, SEPA, etc. during the planning process.
In Scotland, Hargreaves Land is well advanced in the removal of gas supply provision to new residential development plots at Blindwells (in line with Scottish Government requirements) and continues to evaluate the situation in respect of similar developments across England and Wales, albeit carefully balanced against the individual requirements of housebuilders and potential occupiers on each project.
Through its work as a 'master developer' of large-scale mixed-use regeneration projects, Hargreaves Land is proactively fostering placemaking principles which support the creation of new 'twenty-minute neighbourhoods' on several schemes, which by way of purposeful design aim to reduce the local community's reliance on vehicular transport and increase the use of active-travel measures including walking and cycling.  In addition, Hargreaves Land aims to protect and promote biodiversity wherever possible by integrating biodiversity gain into our entire masterplan process, to ensure our developments do not impact negatively on their surroundings and ensure a biodiversity net gain is delivered across each scheme and monitored throughout the life of the site.
Group-wide, we have monitored and recorded the reduction in CO2 emissions to reduce business through the se of Microsoft Teams.  Using Government statistics, we estimate that the tonnes of CO2 equivalent emission reduction during FY23 was 738 tonnes. This is equivalent to an average size diesel car travelling approximately 110 times2 around the earth3!
A range of PPE made from recycled materials is being trialled and we are working with the supply chain to establish sustainability targets in terms of packaging, reducing delivery and product choices. The focus is on durability and cost compared with non-recycled items.  In addition, appropriate recycling bins will be placed at the relevant sites, and these will be recovered using an appropriate provider.
The ESG Group has evolved to establish a Fuel Sub-group.  The Fuel Sub-group includes representatives from all areas of the business, to ensure a collaborative approach, to examine fuel usage and efficiency relating to HGV and yellow plant, including investigating the potential use of alternative fuels.  In conjunction with the Fuel Sub-group, the business is exploring opportunities to utilise HVO, where possible. Trials using HVO have been carried out which show 95% reductions in carbon emissions. All of the Group's HGV fleet can use HVO and this offering is now made to every client.
Plant operators are being encouraged to reduce their idling time by 10-15%.  Our Specialist Earthworks business is part of the UK Team for the creation of a new European Earthworks Sustainability Technical Report, aimed at sharing best practice in earthworks sustainability with our European peers. The business has been awarded the Best Environmental Sustainability Initiative Award at the EKFB C23 Awards for the design, supply and installation of the Small Dean Conveyor Project in Wendover, Buckinghamshire, as part of HS2.  The conveyor has eliminated the equivalent of 1.15 million miles of road haulage, saving 1.6 million litres of diesel; offset over 5,000 tonnes of CO2 (equivalent to planting 30,000 trees); and reduced construction noise by over 50%.
In conjunction with an external provider, the business has begun building a stock of earthmoving remould tyres, rather than purchasing new. This process includes worn tyres being removed from the machine, x-rayed, inspected, buffed, repaired and refilled. By utilising remould products, both new materials and energy requirements are significantly reduced in the tyre production process. As a tyre can be remoulded up to three times, tyre disposal will also be reduced. The provider issues monthly Maple Programme certificates, showing CO2 and oil savings, through purchasing remould products.  Typically, using remould tyres reduces energy used in tyre production by 30%4.
No significant environmental incidents were reported in the year within the Group.
Through the ESG Group, the usage of gas and electricity consumption is analysed, in addition to establishing metrics and targets, which have been approved by the Audit & Risk Committee.
FY23 Carbon Reduction Targets
Group carbon reduction targets set for FY23 were:
to reduce plant idling time by 6%;
average plant idling time has reduced to 28% from 34% in line with the target.
to improve the kilometres per litre achieved by the haulage fleet by 3%;
a 2.12% improvement has been achieved against this challenging objective.
to reduce the MW consumed by office based employees by 2%.
in FY23, 1.62MW were consumed compared with 1.8MW in FY22, a reduction of 10%.
FY24 Targets
The Group has set three targets for the next financial year which are focussed on developing strong ESG management systems. The targets are as follows:
to prepare a Sustainability Framework supported by management plans for carbon, waste and energy to align with the UK Government's goal of achieving Net Zero Carbon by 2050;
to attain a Silver Level Rating in the Supply Chain Sustainability School;
to plant at least 40,000 trees on the Group's own land which would equate to 5,000 tonnes of carbon capture over the life of those trees.
SECR
The Group's Scope 1, 2 and 3 emission data is set out in the table below.
Scope 1 and 2 Global GHG emissions:
Tonnes of CO2e
2023
Tonnes of CO2e
2022
Change %
Combustion of fuels in operations and services provided
16,323
18,034
-9.5%
Electricity, steam, heat and cooling for own use
302
453
-33.3%
Total footprint
16,625
18,487
-10.1%
Emissions reported above per employee
12.2
15.0
-18.7%
Scope 3
Business travel (air, rail and vehicles)
262
248
+5.6%
The Group has achieved a 10.1% reduction in Scope 1 and 2 emissions and a 18.7% reduction per employee in a year where activity levels have increased substantially with revenue growing by almost 19%. The modest increase on measurable Scope 3 emissions is principally due to less home working as Covid 19 restrictions were eased. The 2022 figures have been restated to correct errors in both the Scope 1 and Scope 3 figures.
Methodology
The Group follows ISO14064:1 standard for its reporting and takes the operational control approach to reporting. The conversion of units of fuel used into tonnes of CO2e has been done utilising the UK Government Conversion Factors 2023.
Scope 1 emissions have been calculated by taking the total number of litres of fuel used in operations during the reporting period and converting them to tonnes of CO2e using the appropriate conversion factor.
Scope 2 emissions have been calculated by taking the total kWh of electricity and gas used at the Groups premises during the reporting period and converting them to tonnes of CO2e using the appropriate conversion factor.
Scope 3 emissions have been calculated by taking the total litres of fuel purchased for business travel as well as an estimate of emissions for business flights.
The Board considers that the disclosures above meet the requirements of the Companies Act 2006 sections 414CA and 4141CB (2A) with the exclusion of paragraphs 414CB (2A) (e), (f), (g) and (h) as the Board considers there to be no such material risks.
Social
Employee Wellbeing
Hargreaves is committed to employee wellbeing, from ensuring a satisfactory work-life balance, through flexible working and strict adherence to our rigorous policies, to ensuring employees are actively supported through our free of charge Employee Assistance Programme ('EAP').  The EAP provides confidential 24/7 online and telephone assistance, to support issues from mental health and physical support to legal and financial advice.  In addition, the business has a total of 40 trained Mental Health First Aiders, 32 across the UK and 8 in Hong Kong.  These individuals are the first point of contact for an informal chat or to sign post employees to the correct professional advice.
To help employees budget through the current cost of living crisis, our employees benefit from generous discounts from high street and online retailers via the Hargreaves Rewards platform using their online account or via an app.  At the end of May 2023, employees have saved a total of £20,000 since the platform launched in December 2021.
In partnership with an external coaching mentor, Hargreaves is supporting potential and existing Line Managers by delivering a Management Development Programme aimed towards actions and behaviours to improve team engagement and business performance.  Course modules cover numerous topics, including customer focus, effective communication, engagement and inclusivity, and coaching and mentoring.
As part of our commitment to employee wellbeing and safety, we issued all employees with an electronic survey to gather anonymous feedback on the support and benefits offered to them.  This feedback is used to guide changes and improvements. Fresh fruit is provided in breakout areas to encourage employees to benefit from a healthy balanced diet.
The charts below show the difference in mean (average) hourly rate between men and women. Within the Group, the main areas of work are in logistics, production and industrial services including material handling and maintenance. The majority of roles within these sectors are direct workers i.e. labourers, drivers, machine operators, shift work with irregular working patterns. The median gender pay gap was 46.02%.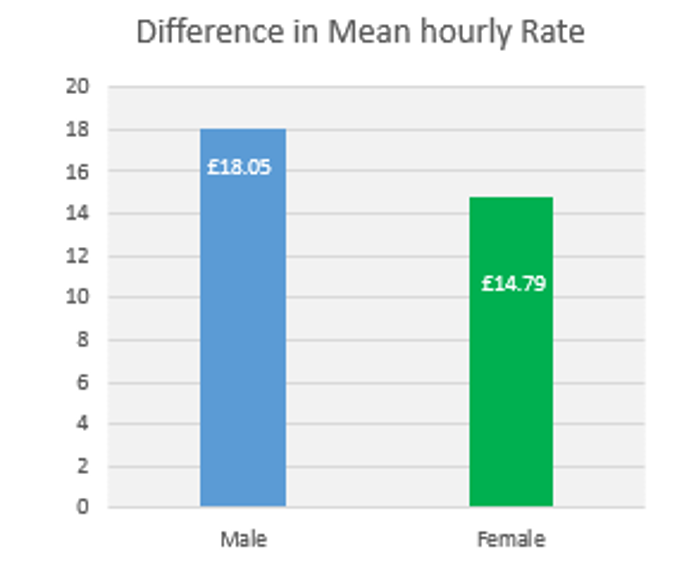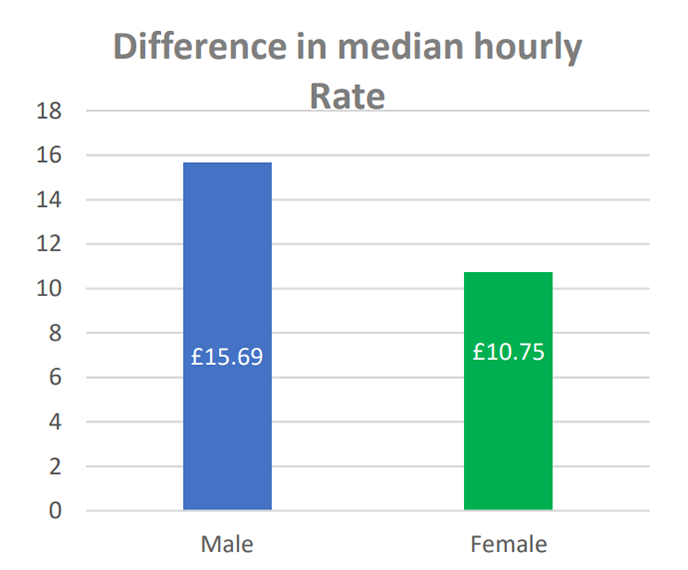 Whilst the hourly rates are higher for the males, the median bonus average is higher for females. The percentage of females receiving a bonus (49%) is also greater than the percentage of males receiving a bonus (38.81%).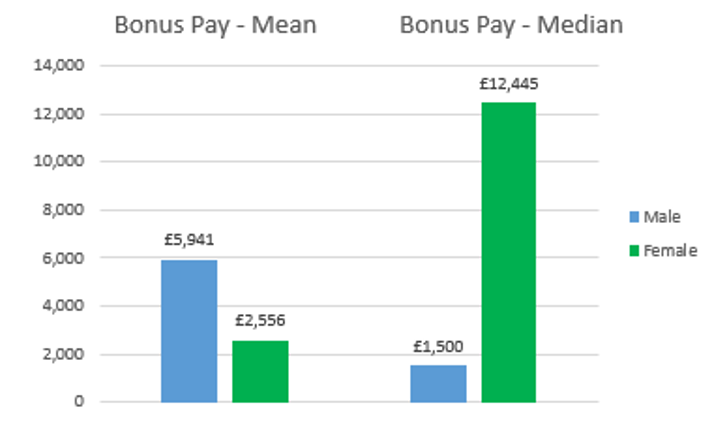 The graphical information below illustrates the diverse nature of the Group, identifying the ethnicity and gender split of our workforce. The number of individuals who have identified themselves as disabled is 7.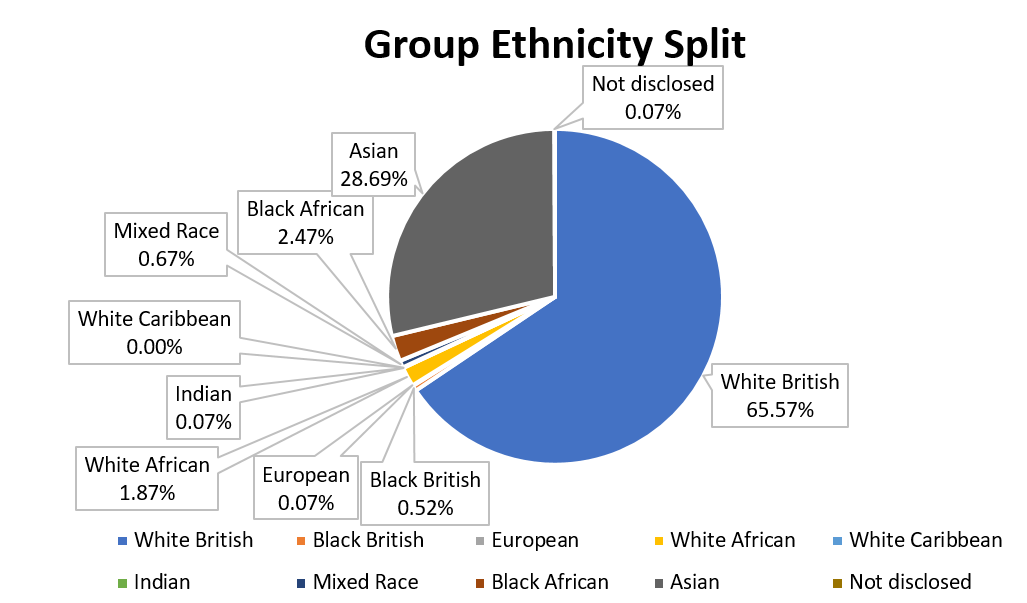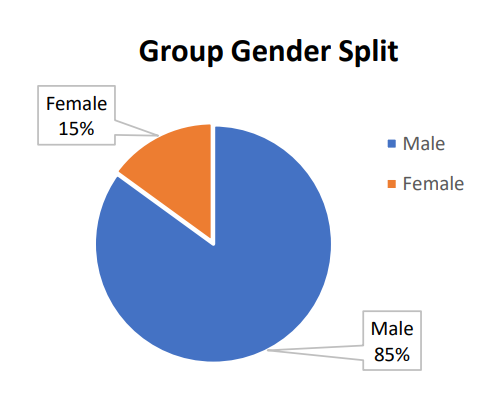 Social Engagement
The Group continues to support local communities, activities and events that employees are actively involved with through its £50,000 per annum Corporate Social Responsibility Fund ('CSR Fund'). During the current financial year, we have supported a total of 76 events, donations and initiatives across all areas of the business.  These include sponsorship of 5 charity golf days; sponsorship of 29 adult and junior teams; 9 employee matched donations of sponsored events; donations to 9 community events and foodbanks; donations to 7 local schools, nurseries and hospitals; supplied 5 charity events with raffle prizes; 3 donations in memory of an employee or a family member; donations to 3 scout/cub groups; sponsorship of 2 local Christmas trees; and sponsorship of local businesses and attractions, some of which offer staff discounts and benefits, such as Durham Cathedral and Ushaw College.
Elsewhere, Hargreaves is also focussed on local communities. The business was recently awarded a ten year logistics contract for Durham County Council and intends to focus its CSR funding projects within this region.  In addition, the business was 'Highly Commended' for 'Safer Transport and Logistics' at the MPA Health and Safety Awards in January 2023.
For the second year, we are proud to sponsor the North East England Chamber of Commerce Inspiring Female awards. The awards recognise the inspirational and influential women across a range of businesses in the region.
At the end of FY23, Hargreaves Land has delivered 144 housing plots dedicated to social housing development and is contracted to deliver a further 100 social housing plots in FY24.  Hargreaves Land continues to explore opportunities where integrated placemaking principles can ensure a mix of tenures are delivered on each new development.
Our business is focussed on recruiting plant operators from outside the industry, recently recruiting 30 individuals. In addition, they retained 75% of new operators who successfully completed their training through the award winning Blackwell Earthmoving Training Academy in FY23.  294 people attended a Plant and People Interface Behavioural Awareness Training Week at the HS2 project.  This included a visit from Chiltern Wood School for teenagers with special educational needs as part of a social engagement programme.
| | |
| --- | --- |
| | St Andrew's Church - Niall Fraser and Val Hartley presenting a cheque to St Andrew's Church, Earls Colne, to help with fundraising for the restoration of their historic bells. |
| MPA Awards - Graeme Lightbody, SHE Manager, proudly displaying our very well-received commendation. | |
| | Brandon United - The team looking ready for action in their sponsored team kit (Isaac Gittins, an employee's son, front and centre) |
| Immingham Town Council - One of our sponsored Christmas trees looking impressive outside Immingham Civic Centre. | |
| | Maltby Town Council - Sponsorship of the recent King's Coronation celebrations, which provided a great opportunity for communities to come together. |
Governance
Hargreaves is committed to maintaining high standards of corporate governance and has adopted the Quoted Companies Alliance Corporate Governance Code 2018 ('QCA Code'). The Company complies with each of the ten principles of the QCA Code.
Around the Group, businesses hold various accreditations including ISO45001, ISO9001 and ISO14001.  Additionally, the Group is well advanced in moving towards attaining ISO27001. These internationally recognised accreditations underpin the high standards we continue to achieve. In addition, our Logistics business holds FORS accreditation. This is a voluntary accreditation scheme for fleet operators which aims to raise the level of quality within fleet operations and demonstrates which operators are achieving exemplary levels of best practice, efficiency, and environmental protection.
Further information on the Group's Corporate Governance is set out on pages 31 to 35 of our 2023 Annual Report.
References
4 Kaltire data, validated by SCS Global Services